Revascularization of Dialysis AVFs
Distal revascularization-interval ligation (DRIL) empirically corrects steal after arteriovenous fistula (AVF) creation in most cases.
What is Revascularization of Dialysis AVFs?
Dialysis-associated steal syndrome occurs when distal arterial ischemic symptoms develop secondary to the placement of arteriovenous grafts or fistulas. … The distal revascularization interval ligation (DRIL) procedure has quickly become a desirable treatment option for dialysis-associated arterial steal syndrome.
The arteriovenous fistula (AVF) dysfunction is a common reason for vascular access problem in chronically hemodialyzed patients. It is caused by stenosis or occlusion located either in inflow artery, anastomosis or outflow vein. Revascularization of these pathologies can be achieved in surgical or endovascular (PTA) manner.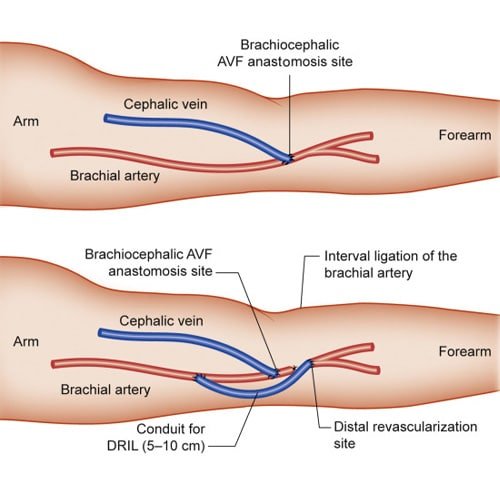 Check out results of our previous treatments.
We have treated many patients in last more than two decades, here are some sharing their experience with us.
"Very happy with the treatment. Thanks to all the nursing staff and Dr. Jathin. Dr. Jathin was very nice in explaining everything to us. Special thanks to the insurance team for making is very smooth."
"Life changing experience. Not only my legs look better , they feel so much better. The cramps , swelling and heaviness are all gone . Thank you Dr. Jathin sir. Thank you Nikil and Rohan for getting me the appointment with Dr. Jathin"
"Very professional team. I felt very confident going into the procedure and was so pleased with the results. I Highly recommend Dr. Jathin and his team."
Get One Step Ahead Of Disease
With Dr. Jathin's expertise of treating varied varicose veins, you can stay one step ahead of the disease.