Arteriovenous Fistula Access for Dialysis
To undergo dialysis, a patient must first have a surgical procedure to create an access point for the machine. This is typically done in the arm or the wrist, most often by connecting an artery and a vein. The procedure is performed by a vascular surgeon who specializes in treating the circulatory (vascular) system.
Arteriovenous Fistula Access for Dialysis in Mumbai
In case you've been detected with ESRD (End Stage Renal Disease), Hemodialysis is the treatment for you. It involves the procedure of taking excess water and waste out of your body.
To perform an HD, the doctor requires vascular access to reach your blood for cleaning it. In other words, you can call vascular access the lifeline of the HD treatment.
In this scenario, the use of Arteriovenous Fistula access for Dialysis comes into the picture. You can define an Arteriovenous Fistula access for Dialysis as the best choice in terms of dialysis access because of its durability and performance. Besides, it comes with a set of benefits.
If you're looking for the best center offering Arteriovenous Fistula Access for Dialysis in Mumbai, your search ends here! With experienced vascular specialists, dedicated staff members, state-of-the-art infrastructure, and a patient-centric approach, we've taken the procedure to a different level.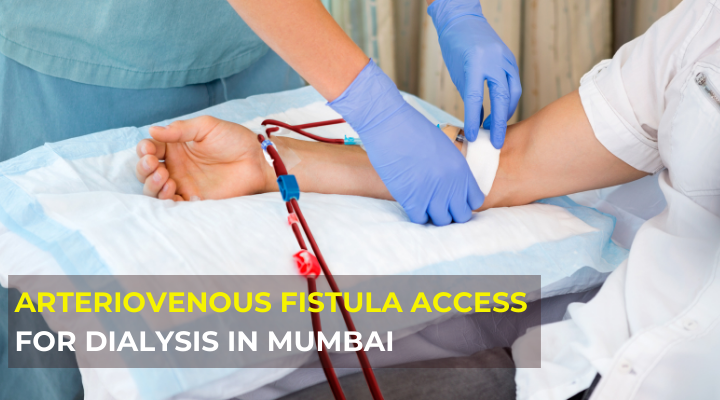 What Does Arteriovenous Fistula Access for Dialysis Refer To?
An Arteriovenous Fistula access for Dialysis refers to a surgical connection that a vascular surgeon makes between a vein and an artery.  An Arteriovenous Fistula access for Dialysis is usually placed in the arms; however, in few cases, the doctor can decide to place it in the leg as well.
Arteriovenous Fistula access for Dialysis directs the blood from artery to vein without any obstruction. It increases the blood pressure the amount of blood flow via a vein. When the amount of blood flow and the pressure increase, it enlarges the vein.
These enlarged veins can easily deliver the required amount of blood flow that ensures an adequate hemodialysis treatment. In simpler words, by enlarging the veins, Arteriovenous Fistula access for Dialysis creates the channel to connect the patient with the dialysis machine more conveniently.
The following picture may help you in developing a better understanding of the subject.
Arteriovenous Fistula Access for Dialysis –
A Brief about the Treatment Procedure
Arteriovenous Fistula access for dialysis is a surgical procedure that is performed in the operation theatre. The specialist stitches two vessels together for creating an Arteriovenous fistula. The procedure requires some specific criteria to meet. The access point must have adequate durability so that it can withstand dialysis treatment multiple times a week. It should not collapse anyway.
It's a procedure that requires professional medical assistance. Being one of the best centers of Arteriovenous Fistula Access for Dialysis in India, we strive to provide the best in class treatment so that our patients can leave the clinic with a smiling face and they don't face any issue while undergoing dialysis.
When an Arteriovenous Fistula access for Dialysis Should Be Placed?
Typically, our adept vascular surgeon performs the procedure approximately six months before the first session of dialysis. The reason behind the same is the prolonged healing period of the treatment. 
The placed Arteriovenous Fistula access for Dialysis requires several weeks to gain the desired sturdy outlook that can withstand such a rigorous treatment as dialysis.
Our qualified surgeon performs the entire process with the utmost care and perfection, ensuring a better result of the treatment. In India, Arteriovenous Fistula access for Dialysis is one of the most sought-after pre-dialysis treatments and we master the art of performing it with the desired touch of perfection.
Why You Should Go for Arteriovenous Fistula access for Dialysis – the Advantages
Our expert vascular surgeons recommend Arteriovenous Fistula Access for dialysis since it comes with a number of undeniable advantages.
An 

Arteriovenous Fistula access for Dialysis

 remains functional longer if compared to other types of vascular access
The risk of infection is notably low.
Local anesthesia does the job and it doesn't require prolonged hospitalization.
You can go back to your normal routine soon after the treatment.
It doesn't involve any synthetic material plantation in the body.
Decreases the treatment time for dialysis by ensuring sufficient blood flow required for an effective dialysis session.
The possibility of clotting is also lower with 

Arteriovenous

 Fistula Access.
The procedure is convenient and painless.
You should leave the responsibility of detecting Arteriovenous Fistula on a skilled and experienced specialist. This is going to help you in getting successful patient outcomes.
Our Arteriovenous Fistula access for Dialysis care team holds the right knowledge and hands-on experience of detecting Arteriovenous Fistula and this enables them with the power of referring to the best fit treatment. When you seek our help to detect Arteriovenous Fistula, we take you through the following steps.
A thorough examination, performed by our specialist doctors.
Advance studies that include updated procedures like MRIs and more.
We offer the best doctor, one-of-a-kind research and laboratory facilities, and innovative treatment procedures.
Arteriovenous Fistula access for Dialysis – Complications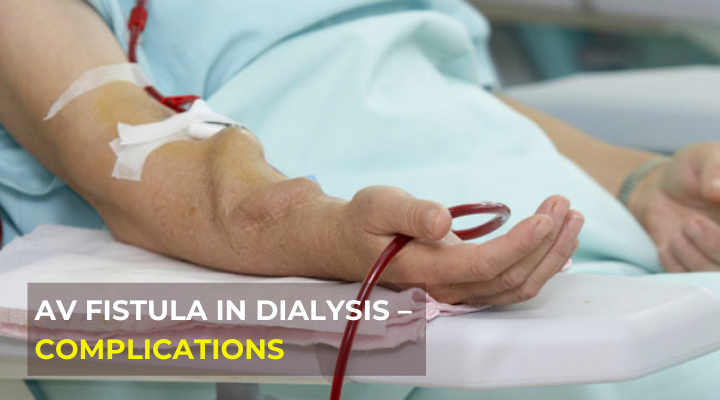 Whenever we attempt to apply some artificial procedures to our body, some obvious complication arises and Arteriovenous Fistula access for Dialysis is of course, not an exception to the fact. Though it's done for easing and adding more effectiveness to the HD process and it's aimed to give the patient some relief, a number of side effects may show up.
The good part is, they are hardly fatal or serious and compared to the advantages of the treatment, and they are negligible as well. Moreover, by choosing a reliable clinic like us, you can avoid the chances of some of the complications, since all it needs is sound knowledge and expertise to perform the procedure correctly.
Below are the expected complications that can occur during or immediately after the surgical intervention. As said before, you can bypass some of them if you're getting the procedure done by an experienced and trustworthy surgeon.
You should always keep in mind that end-to-end anastomosis needs a formidable surgical technique. It's even more crucial in cases with a discrepancy between the lumen of the veins and arteries. This can result in ischemia of the distal extremities. The risk is even higher in elderly and diabetic people.
However, when you leave the job of placing an Arteriovenous Fistula access for Dialysis on our experienced vascular surgeon, he does everything in his power to perform the procedure accurately. Naturally, it omits the possibility of such sudden and unexpected surgical issues.
This can occur after any surgery. It's not only the Arteriovenous Fistula access for Dialysis that calls for the same. It can lead to moderate breathing issues. However, if you've any allergy, including drug-related ones, don't forget to inform about them prior to the surgery. It will help in reducing the chances of serious allergic complications.
In rare cases, the placed Arteriovenous Fistula fails. However, being a little care can help you in avoiding the possibilities of severe issues caused by the same. Immediately reach out to the doctor if you face any problem while taking the blood pressure or pulse rate post-surgery. In case you have a fever, bleeding, or severe pain in the operated area, inform the doctor promptly.
Apart from the stated ones, in very rare scenarios, there might be a blood clot or infection-related complications.
Recovery after Arteriovenous Fistula Access for Dialysis
The period of recovery after Arteriovenous Fistula access for Dialysis varies from one patient to another. However, it's usually agile and you can get back to your routine within a couple of days.
Our doctor holds considerable experience in rendering result-oriented treatment. When you reach us, we always put ourselves in your shoes and handle the entire thing with the utmost care and sensitivity.
A professional yet passionate approach, affordable Arteriovenous Fistula access for Dialysis cost, and best treatment methodology make us one of the best clinics offering Arteriovenous Fistula Access for Dialysis in Mumbai/ India. For consultations or any other queries related to Arteriovenous fistula access, get in touch with us today!
We have treated many patients in last more than two decades, here are some sharing their experience with us.
"Very happy with the treatment. Thanks to all the nursing staff and Dr. Jathin. Dr. Jathin was very nice in explaining everything to us. Special thanks to the insurance team for making is very smooth."
"Life changing experience. Not only my legs look better , they feel so much better. The cramps , swelling and heaviness are all gone . Thank you Dr. Jathin sir. Thank you Nikil and Rohan for getting me the appointment with Dr. Jathin"
"Very professional team. I felt very confident going into the procedure and was so pleased with the results. I Highly recommend Dr. Jathin and his team."
Get One Step Ahead Of Disease
With Dr. Jathin's expertise of treating varied varicose veins, you can stay one step ahead of the disease.